1
You WILL stress about money
Being a bridesmaid can be more expensive than you expect. It's relatively traditional in the UK for the bride to buy the bridesmaid dresses and cover any alterations, but you may have to pay for accessories. Just be clear from the outset about who is paying for what.
Beyond the dress you need to factor in the hen party, wedding gift, travel, hotel, taking time off work, favors. It soon adds up. You can save money on the favors by making them yourself though (although be mindful of Pinterest expectations vs reality!). As always, budgeting will help you keep a handle on things. 
2.
You WILL stress about being organised enough
Don't let the seemingly far off date fool you. Starting early will reduce stress and means that you'll be better prepared for last minute emergencies or unexpected changes.
Gather all the contact information you need, a timeline of the events, a to-do list and outline of expected wedding expenses. Notonthehighstreet sell a great bridesmaid planner notebook.
Coordinate with all the other bridesmaids about who's taking on the mundane tasks on the day, so that everyone is clear in advance. Confetti, organising people for photos, carrying the brides stuff to or from the wedding/hotel; the list is long.
3.
You WILL stress about how heavily involved you'll have to be
Maybe you live some distance away, maybe work is gonna be crazy this year, maybe you'll be pregnant over the wedding, or maybe you just don't think you'll be able to handle it?! If you're unsure how much of a burden you can shoulder, it's all about saying no while saying yes.
'I've got a tonne of work on but I can set aside x days. Let me know what I can do.'
And if you don't think you'll be able to do justice to the task of being bridesmaid, then let her know early on. Just don't leave it till the last minute before pulling out.
4.
You WILL stress about whether you'll be more of a hindrance than a help
It's true that an uncooperative bridesmaid can cause a lot of problems, so if you think it could put a strain on your friendship, it may be worth suggesting that you take more of a backseat role, especially if you're at odds with some of the other bridesmaids too.
One bridesmaid will be convinced she knows the bride best, one will complain about money constantly, everyone will disagree about the hen party plans, two people will end up fighting, one person will be bitter they aren't the maid of honour, plans will get messed up, someone will do absolutely nothing to help, someone will get really jealous and you'll end up resenting weddings in general.
But you'll still end up having a great time!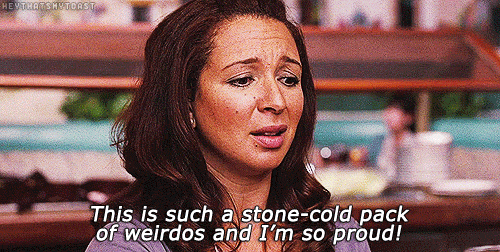 5.
You WILL stress about the bridesmaid dress
Striking a balance between what the bride wants and what the bridesmaids want to wear is not an easy task, especially when everyone has different taste and body shape. Try and suck it up and wear what the bride wants you to wear, it's only for one day after all.
Or one novel solution these days is to have the bride pick the fabric and colour and then let the bridesmaids choose their own styles.
 6.
You WILL stress about how you look on the day
Don't get a facial days before the wedding, as they can make your face red and blotchy – not a good look for the photos.
And don't be afraid to take some time out on the day, you'll be smiling so much for photos that your face will begin to hurt! Take a seat and rest those jaws in preparation for the next round of pics!
7.
You WILL stress about the reading
A dress rehearsal for the reading will really help calm your nerves ahead of the real thing, but if you're not a natural or experienced public speaker then the top tip is to speak up and slow down.
A consequence of being nervous is to do the reading too fast in order to get it out the way. Of course, if you really hate the idea of public speaking then reading it really fast is a great way of getting it over and done with!
And don't have too many pre-ceremony glasses of champagne before your reading!
8.
You WILL stress about catastrophes on the day
Sh*t will hit the fan. Big time. But you'll deal with it…
Preparation and clear organisation is your friend, and will help you deal with those eventualities. Carry a mini emergency kit – you can buy them on Etsy – with safety pins and bobby pins.
Don't hit the cocktails on the big day before you've fulfilled all your duties – maintaining a clear head will enable you to deal effectively with any complications that crop up.
Keep hydrated and carry snacks for you and the bride if you can, to keep your energy levels up!
And remember, disasters do happen, so roll with the punches!
9.
You WILL stress about whether it will be special enough
Surprises and personalised touches are a great way to lend a special feel to the hen party. There's a tonne of DIY ideas on Pinterest as well as items you can buy on Etsy.
10.
You WON'T stress about the hen weekend
Because we make it our business to save you time, hassle and money