Already one of our most popular stag do destinations, and rivalling Prague as stag do titan of Europe, we recently jetted off to Budapest to see what all the fuss was about. Dragging in countless stag groups and hen parties (…and less drunken and debaucherous tourists) year in year out, what was once Eastern Europe's best kept secret is now the heart of the East… and as we discovered, a hell of a weekend.

tumblr.com
We grabbed some great flights for around £100pp return, packed our bags and headed off to the airport, or more specifically the pub in the airport. And while we're usually the most obnoxious group on the flight, we were actually accompanied by not one, not two… but three different stag groups in full babywear and gimp costumes. We can only assume the air hostesses are used to it on route to Budapest, because they didn't bat an eye.
One of our lovely English speaking guides, Livi, met us at the airport for a hassle free journey straight to our first activity, a laidback river cruise down the beautiful river Danube with unlimited booze …and a stripper. But not just any stripper. Our stripper was 200lbs+ of Hungarian woman - and in case you hadn't guessed, that's a whole lotta woman.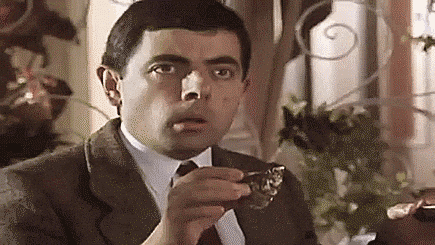 giphy.com
While it was supposed to be a 'nice' surprise for the boys to enjoy, neither of them would man up enough to get in the chair and enjoy a dance, but fortunately our guide Livi had enough balls to make up for their lack thereof.
After downing a few more pints in the vague hope of erasing the last 15 minutes from our minds forever, we headed back to the hotel so the girls could get their gladrags on for later… and the boys could sit in the hotel bar whining about how long it takes women to get ready. Fortunately, this is not a problem you'll encounter on your stag do.

popkey.com
Our first stop of the night was to line our stomachs for the heavy night ahead with a 3 courses of delicious traditional Hungarian grub including beef broths, goulash and the Hungarian's take on trifle; all washed down with a couple of shots of 50% ABV palinka and schnapps, which will certainly put hair on your chest...

h-cdn.com
Conveniently, our legendary ruin bar crawl starts at the bar of the restaurant we were in. We can't rate it enough for a boozy night… namely because it begins with unlimited vodka for half an hour. Which is the best worst idea we've ever heard.

tumblr.com
At some point during our attempts to see just how much vodka it takes to kill a grown man, a little man showed up. By which we mean a dwarf. Who was promptly handcuffed to Will, courtesy of our very own MD back home.
He told us his name was George Clooney, which we're not sure we believe. And although it was Will who was handcuffed to our very own miniature Danny Ocean, it was actually love at first sight for both Kayleigh and George…

gr-assets.com
Our bar crawl consisted of seeing the bars that Budapest is famed for, the urban ruin bars. If by some miracle you haven't heard of them, they're the strange illegitimate lovechild of an antiques store and a bar… all set in spacious warehouses or underground bunkers. Drinks will only set you back around £1 a pint, meaning the nights are cheap, long and horrifically messy.

learnthatlanguagenow.com
We'll take a moment here to point out that one of the quirkier things we noticed about Budapest is that they seemingly don't value privacy while you're on the bog, which is to say they don't have locks on any of the loos. And also that people dressed as clowns roam the streets telling you to be quiet. Yes, really.

imgur.com
To finish our night off we headed Doboz ruin club. We can't work out if it's because we had had one too many tequilas by this point, or if it's genuinely a maze, but we do remember getting lost down winding corridors, in a terrace straight out of Alice in Wonderland and accidentally ending up in the middle of DJ sets that wouldn't look out of place in central London.

tumblr.com
We don't really remember getting home. We do know that nearby our centrally located three star hotel there is an abundance of pizza shops, kebab stands and McDonalds just a hop, skip and a drunken stumble away. We also know that Josie spent most of her night with her head in the toilet, and that a fair few of us woke up with the kind of foul morning breath that only a late night dodgy donner can bring.

giftrunk.com
With heavy hangovers on Saturday morning, we dragged ourselves over to our first activity of the day, bobsledding, which as it happens is a peachy hangover cure when combined with the classic hair of the dog.

okmoviequotes.com
We weren't really sure what to expect from bobsledding so we'll tell you this; it's basically throwing yourself down a slide in a glorified baking tray while screaming like a girl.
Oh, and use the brakes… because otherwise you'll be making the same fatal (yet hilarious) error that Kayleigh did.
Even with the injuries considered, we loved it. There's plenty of beer and food on site to keep you entertained when you're not hurtling down a track. We even had a go on the mini golf course and bouncy castle (which we wouldn't recommend on a hangover).
Our second activity was a long standing favourite, a beer bike. Which actually turned out to be a beer, cider and prosecco bike… resulting in the amount of chaos you'd expect really.
­­Hangovers all but forgotten, we headed to our first activity of the evening… a very swanky dinner in a very swanky wine cellar, where we looked as out of place as you'd expect. Our wonderful connoisseur was talking us through all their delicious beverages, giving us a chance to ask any questions we might have after a very knowledgeable explanation… we'll never understand why Joe took that opportunity to ask for a beer.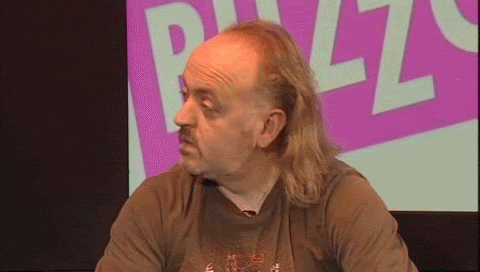 giphy.com
We dug into three gourmet courses of wild boar soup, roast duck and noodle sponge cake (way less weird than it sounds), all washed down with various wines to compliment the grub. Basically, we ate like royalty. Or how we assume royalty eats.

tumblr.com
We followed up our posh nosh with something we're a little more familiar with, a cocktail bar with some rather naked girls dancing on the tables.

tumblr.com
And to send ourselves off in style we headed to one of the most mental nights out Budapest has on offer – the spa parties, AKA the sparty.  The city is famed for its thermal baths, tourists descend on these natural hot springs year round, but when the sun goes down they open up into pool parties complete with bars, live DJs and amazingly warm springs.
Leave your belongings in your personal cabin, load up your bar tab and dive in for an unforgettably unique evening. We'd heard mixed reviews before we went, but we're happy to report back that the pools are clean, the drinks aren't a rip off and after a couple of vodka redbulls you'll find it pretty much normal that everyone is hammered and wandering around half naked, or in the case of our group wearing googles and Disney princess armbands, not mentioning any names here… Will and Kayleigh…
You'll even find it normal for your colleagues to start flipping unsuspecting couples by the ankles, being kidnapped on inflatable alligators and swerving watery predators who appear from the depths for a casual grope.

tumblr.com
We grabbed our flight back at a horrifying 6am, meaning an all-nighter and also made us question just how drunk you have to be not to get let on a flight, because we got on no hassle which is somewhat concerning when you can no longer form coherent sentences.
For a non-stop stag do, we can't think of a city that will cater to you better. Somewhere between burning man and cosmopolitan class, Budapest provides a stunning backdrop for your last weekend of freedom. We will give you fair warning though… when reality hits home come Monday, it'll hit hard.
Try out our Budabest package for yourselves!